KITTY LITTER BOX CAKE
(with Lisa Rittenberg's variation)
At Foothill Pet Hospital (FPH) this easily served:
1 Veterinarian, 1 Hospital Manager, 1 Receptionist, and 7 Veterinary Technicians.
History of this Recipe: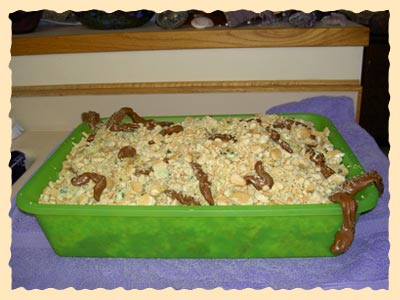 I first heard about this unusual appearing cake from my sister-in-law. She is a human dietician, and believe it or not, the cake was served at one of her professional functions. Since she knows I like unusual and innovative desserts, and we have Foothill Pet Hospital (FPH), she thought voila what a perfect cake for me to experience.
According to the internet, over the years no recipe has received as much press. And once you see the finished product, we think you will get just as much of a laugh as I/we have. And, even though cat aficionados will probably like it the most, it is actually a tasty cake too.
I first served this cake at FPH for Mike Martinez's going away party upon his acceptance to UC Davis Veterinary School. It was Dr. Rittenberg's (Dr. Ritt's) idea, and he knew Mike with his sense of humor would love it too.
So, here goes: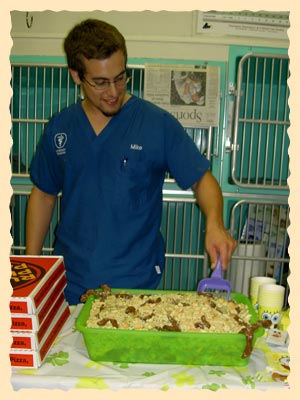 Ingredients and necessary equipment:
6 - 18 oz boxes Duncan Hines Spice Cake mix.
18 - large AA eggs at room temperature.
6 - 1/3rd cups peanut or vegetable oil.
6 - 1 & 1/3rd cups water.
6 - 4 – 6 oz boxes of vanilla pudding. (You could substitute a caramel pudding also.)
12 - cups whole milk.
6 - 16oz Mother's vanilla sandwich cookies.
(If you don't like its yellow/beige color, you could try a different brand; or perhaps mix in some Oreo type cookie to get a grayer coloring.)
4 - tsp vanilla extract (+/-).
Green Food coloring.
2 - 2.25 oz extra large Tootsie Rolls.
10 - 0.5 oz Tootsie Rolls.
36 - regular size Tootsie Rolls (+/-).
Pam baking spray.
5 - quart mixing bowl(s).
4 - sheet cake pans (18 x 13).
Hand mixer.
4 cup Pyrex measuring cup.
6 - quart size Ziploc plastic bags.
1 - 13.5 X 18 X 4 inch NEW Litter box. (I used a brilliant neon green one for extra effect.)
NEW Litter box scooper.
(NOTE: For ease, you can make the cakes the day before. Also, you can make the pudding the day before as well. However, make sure you place saran wrap over the top of the pudding so no air can get within the container. Otherwise, it will get a "skin" on it.)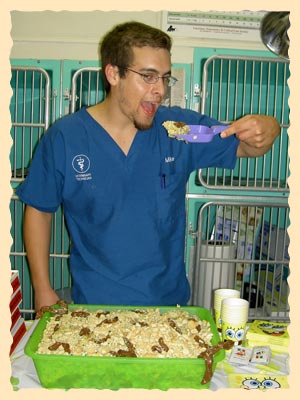 Directions:
Preheat oven to 350 degrees.
Wash litter box and litter scooper thoroughly!!
For Half of the Spice Cakes:
Spray 2 half sheet cake pans with Pam cooking spray.
Let 9 eggs get to room temperature.
In a 5 quart mixing bowl empty three packages of spice cake mixes. Add 3 of the 1/3rd cups of oil, and 3 of the 1 & 1/3rd cups water. Break each egg individually into a small glass checking to make sure there are no abnormalities and no shell. (This way if an egg is bad, or if you have some shell pieces, you do not ruin your whole batter.) If the egg is OK, pour this into the Pyrex measuring cup. Repeat until all 9 eggs are in the measuring cup. Then with a whisk or fork, scramble slightly. Pour eggs into the larger mixing bowl. Using a hand mixer on low power, gently blend all ingredients for a minute or so. Then, on medium power, mix and aerate for two minutes. Pour into cake pans. Place in oven for 30 minutes. Then, if you can, switch the cakes on the shelves, and bake for another 30 minutes or until done.
Let cool. (If you are doing this the day ahead, once cooled, cover with foil and store in the fridge.)
So that you have a total of 4 half sheet cakes, repeat for the next 3 boxes of Spice cake mix.
For the Pudding:
In a 5 quart mixing bowl, empty all 6 boxes of vanilla pudding. Then, add all 12 cups of cold milk. Using a hand mixer, mix for about 2 minutes until well blended. Then, place saran wrap directly onto the top of the pudding and up the edges of the bowl so as little air is between as possible. Then, place in fridge to chill for several hours. (Or, if you wish, you can do this the day before.) You may not need all the pudding in the final preparation.
For the Litter (i.e. the Mother's sandwich cookies):
Place 1 whole package of the sandwich cookies into one Ziploc bag. (As mentioned prior, for a more realistic color, you may want to try some of the mother's cookies with some oreo type cookies to get a more true gray color. In other words, for the "right" cat litter coloring, you can use your imagination too.) Repeat with each of the packages.
Seal each bag removing most of the air.
Then, using a mug or other acceptable heavy object, smash the cookies until they resemble cat litter.
(NOTE: If you are a person who prefers the sandy/scoop able type litters you may wish to use a food processor.)
Add several drops of green (and gray if you can find it) food coloring to each bag and shake/mix well. (Don't worry if the coloring is not evenly mixed throughout. The green coloring is meant to resemble the chlorophyll particles that are sprinkled throughout some of the various cat litter products.)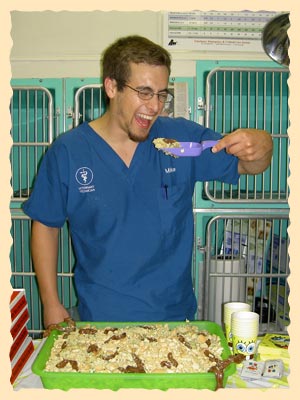 For the Cat Poops (i.e. the Tootsie Rolls):

Using a microwave safe plate, place 3 of the regular size Tootsie Rolls (with their wrappers removed). On high power, heat the Tootsie Rolls in the microwave for 10 seconds. Without burning yourself, quickly use your fingers to shape the blunt ends of the Tootsie Rolls to make realistic cat poop shapes with curves and what not (i.e. use your imagination). Place these on a wax paper lined large plate. Place in fridge to harden for ½ hour. For the 0.5oz Tootsie Rolls, heat them on a microwave safe plate for 50 seconds to create diarrhea mounds. Let them cool a bit. Then, place them on a wax paper lined plate. Place in fridge to let harden for ½ hour. For the extra large size Tootsie Rolls, heat on high on the edge of a microwave safe bowl.

Heat for 20 seconds. Without burning yourself, quickly shape these to sit on the side/edge of the litter box. Leave on the edge/side of the bowl so they will harden to shaping. Place in fridge to harden for ½ hour. (You will be able to use the huge ones on the side of the cake for extra special effects.)

To assemble the actual cake:

In a 5 quart mixing bowl crumble one of the half sheet spice cakes. Add a few large dollops (about 1 – 2 cups) of the pudding, plus some of the cookie crumbles, and some of the smaller tootsies. Mushy (mix) this together. Pour all into the litter box. Make it lumpy (textured). Repeat until the box is as full as you wish. Then, sprinkle with more of the cookie crumbs. Artfully arrange your poops both in the box and on the sides. Sprinkle with more of the crumbs.

Serve using the litter box scooper!

Then, enjoy!!

P.S.#1: Don't forget to have a camera ready to get the impressions of all who see the cake for the first time - and then realize what it actually is too!!

P.S.#2: According to our FPH staff, as an added bonus and for further effect (probably only for veterinary staff and their sense of humor), you can add some cooked spaghetti pieces and orzo to the mixture. They felt these would be good approximations of roundworms and tapeworms!
---
PUPPY CHOW
(For humans only)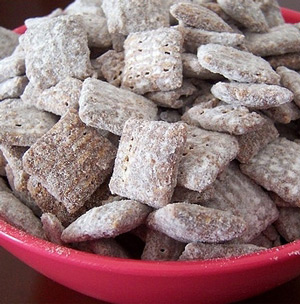 Ingredients:
1/2 cup peanut butter
1/4 cup butter
1 cup chocolate chips
1/2 teaspoon vanilla
9 cups Chex cereal (any flavor)
1-1/2 cups powdered sugar
Instructions:
Combine peanut butter, butter and chocolate chips in a microwave safe bowl.
Microwave for one minute then stir to blend all ingredients thoroughly. Add 1/2 tsp. vanilla. Stir well.
Place the 9 cups of Chex cereal in a very large bowl.
Pour the peanut butter-chocolate mixture over the cereal and toss evenly, making sure all the cereal gets a good covering.
Place mixture in large Ziploc bag and coat with powdered sugar, sprinkling evenly over the cereal and tossing as you sprinkle to cover each piece well.